Home automation

Green Home – Energy Saving
Home Automation systems can lower your electricity bills by improving energy efficiency.Ever leave your home having forgotten to turn of the lights, with a home automation system you can check and turn off your lights remotely.
Have lights programmed based on occupancy, if the system detects there is no one in a room the lights and appliances such as TVs will turn off after a preset time.
Automatically set your thermostats to turn on 1 hour before you come home from work. Set the temperature to a preset level based on outside weather and current indoor temperature, once the desired indoor temperature is reached your HVAC system will turn off.
Your automated blinds and curtains can be programmed to close or open based on desired indoor and outdoor temperature to maintain your desired indoor temperature with minimal heating or cooling costs.
Control lights, temperature and cleaning of your pool/spa based on schedules.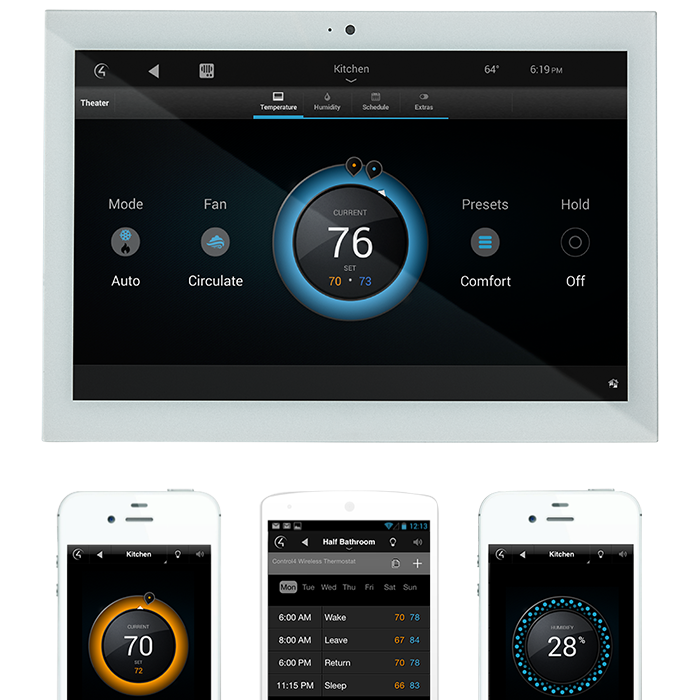 Audio Video Control & Distribution
Control your AV equipment with one remote and have all devices hidden behind a cabinet for a clean appearance.Easy to navigate remote based on the desired device you choose to watch, your automation system will do the rest for you (Automatically turn the TV on and set it to the right input, turn on your AV receiver and set it to the right input and turn on your desired device).
Have your lights turn on automatically once you turn on your TV, set a lighting scene if watching a movie to have the lights automatically dim to a preset level.
Distribute your cable TV, Blu-Ray player and any other device to be available in any room throughout your home.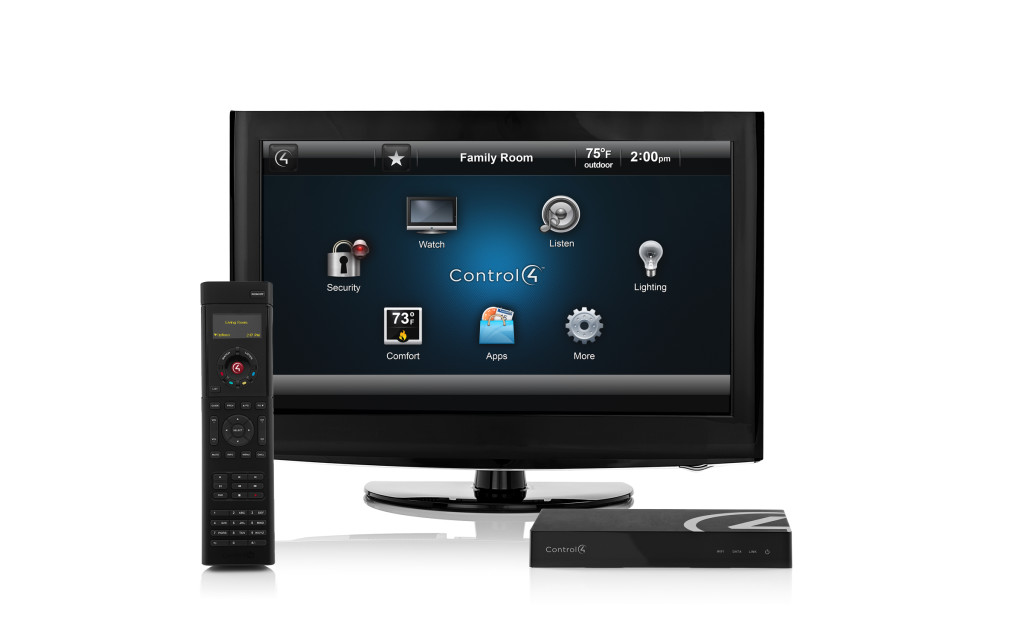 Security & Safety
Weather you are at work or on a holiday, you can watch live security camera feeds on your smartphone or tablet and check that all appliances have been turned off.Forgot to turn on the alarm system? With your home automation system you now have the ability to remotely activate the alarm.
Get an instant SMS and email if your home has been violated with video and pictures. You will also have the ability to play a custom sound through your AV equipment to deter the perpetrator and have certain lights come on to mimic that someone has entered the home.
With automated door locks you can remotely check that you have locked your doors, if not you can lock your door wherever you are. If you forget to lock the doors at night you can have your automation system run a schedule every night at a preset time to check and if unlocked to automatically lock them for peace of mind.
Get instant SMS as soon as your kids enter the house.